***Please read giveaway details carefully.***

From the Back Cover:
Anxious for his brothers to join him on the rugged frontier along the Mississippi River, Connor O'Shea has no choice but to indenture himself as a carpenter in exchange for their passage from Ireland. But when he's sold to Isabella Bartholomew of Breeze Hill Plantation, Connor fears he'll repeat past mistakes and vows not to be tempted by the lovely lady.
The responsibilities of running Breeze Hill have fallen on Isabella's shoulders after her brother was found dead in the swamps along the Natchez Trace and a suspicious fire devastated their crops, almost destroyed their home, and left her father seriously injured. Even with Connor's help, Isabella fears she'll lose her family's plantation. Despite her growing feelings for the handsome Irish carpenter, she seriously considers accepting her wealthy and influential neighbor's proposal of marriage.
Soon, though, Connor realizes someone is out to eliminate the Bartholomew family. Can he set aside his own feelings to keep Isabella safe?
Characters
Connor: A gentle, protective, swoon-worthy hero. Irish.
Isabella: A gutsy heroine determined to save her struggling plantation home.
They both dearly love their families and put their heart and soul into pursuing their goals.
Secondary characters in this novel are memorable as well! Many unique and vivid portraits of Southern folk. This heroine has a mystery tied to her mother, which was intriguing. And I found it interesting to watch her grow from an impetuous young girl into her role of perceptive woman-of-the-house.

Setting
Fascinating history. Life and times of Mississippians at the end of the 18th century. This was before statehood, so when the men gathered on the porch to drink lemonade, they spoke of the territory and governor and banded together as property owners to deal with the issues facing them and their loved ones. I also found interesting the mentions of Irish slaves and their role during this time period.

Romance
From the moment Connor and Isabella meet at the auction block, he is so wounded and guilt-ridden and defensive, but matures through his love for the heroine and his realization that his perceptions from his past life are wrong. Connor has had a previous, hurtful relationship, but Isabella is quite innocent about men. About many things, as she has been sheltered and well-guarded in her plantation home and social circles. Though Connor has been ill-treated by a woman, gives care to be respectful and gentle with Isabella, no matter how little he trusts her. As their feelings grow, their relationship develops tenderly, showcasing Connor's protective instincts.

Pace
Well-paced, flowing, and varied. Thoughtful at times and action packed at others. Goes perfectly with lemonade and porch swings!
Stakes
The danger of highwaymen along the Natchez Trace and specifically the Devil's Backbone were historical bits I'd never heard of until reading Pam's blogs about her research for this book. An eye-opening subject since sometimes we, at least I, tend to think of the Natchez Trace as a peaceful, scenic joyride. Not so during the 18th century. I'm glad for books like these that bring out the struggles of those in prior centuries, familiar struggles that I can relate to and learn from.
Overall Impression
The history fascinates, characters made me care about them, and I can't wait to see what happens to the other Connor brothers!
GIVEAWAY

I'm giving away a Kindle copy of Pam Hillman's STEALING JAKE, pictured below, c
elebrating one of my favorite stories from Pam's back-list.
To enter, leave your email in a AT/DOT format. OR email me at natalieATnataliemonkDOTcom if you have trouble commenting. For extra entries, sign up for my/Pam's newsletter and/or post an URL in the comments where you've shared this giveaway on social media. Giveaway ends 8pm CST August 14, 2017.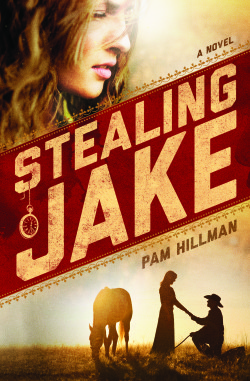 Back cover copy:
When Livy O'Brien spies a young boy jostling a man walking along the boardwalk, she recognizes the act for what it is. After all, she used to be known as Light-fingered Livy. But that was before she put her past behind her and moved to the growing town of Chestnut, Illinois, where she's helping to run an orphanage. Now she'll do almost anything to protect the street kids like herself.
Sheriff's deputy Jake Russell had no idea what he was in for when he ran into Livy—literally—while chasing down a pickpocket. With a rash of robberies and a growing number of street kids in town—as well as a loan on the family farm that needs to be paid off—Jake doesn't have time to pursue a girl. Still, he can't seem to get Livy out of his mind. He wants to get to know her better . . . but Livy isn't willing to trust any man, especially not a lawman.
Comment Fodder:
Have you read Pam Hillman's books before? If so, do you have a favorite?