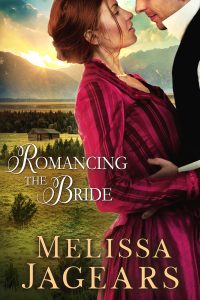 Marrying a stranger to save a ranch is one thing; losing the land on their wedding day is another.
Desperate to keep the ranch where three of her children and a husband lie buried, Annie Gephart must marry or sell. Which of the few bachelors in town would consider a surprise proposal to wed a plain widow with a rebellious daughter, a spirited boy, and unpaid taxes—without laughing in her face?
Jacob Hendrix has never fully let go of his ranching dreams despite ending up as a small Wyoming town's marshal. The job wouldn't be so bad, except he's more errand boy than lawman. When Annie proposes marriage without a single coquettish bat of an eyelash, can he commit himself to a woman he hardly knows for a choice piece of property he'd be an idiot to pass up?
But taxes aren't all that threaten Annie and Jacob's plans. Cattle rustlers, crumbling friendships, and wayward children make this marriage of convenience anything but. When they lose what they've sacrificed everything to save, will the love of a stranger be enough?
As an enthusiast of the marriage of convenience trope, I do believe this is one of the sweetest renderings I've ever read. I love to ponder unique reasons people might have married without affection in times past and delight to see strangers choose love over self-preservation as they give of themselves to make things work.
This story takes a realistic look at the struggles of a destitute widow and the kind, practical marshal who marries her to save her ranch. In this partnership, the marshal takes on a needy family he has the means to care for and a choice piece of property which reminds him him of the reason he came west. But when the ranch they married for is suddenly taken away, awkwardness ensues. Cattle rustlers, grieving children, and a sooner-than-expected attraction clutter this new marriage relationship now balancing on a wobbly foundation.
I sympathized with Annie as she struggled to preserve her family dynamic after the loss of a spouse and many buried children and make room in her heart for a new husband as society tells her she's too soon a widow. Jacob (steadfast, wise, sacrificial, distracted-grin-inducing, wish-he-weren't-fiction Jacob) is a fixer. He tries to discern God's leading in his life, tries to do his best in a demeaning, title-only marshal job, tries to fix his crumbling relationship with his best friend, tries to settle into his new role as father and husband, tries to woo his grieving wife, and tries to catch cattle rustlers before he finally learns to trust God's timing in situations he can't seem to change. And Celia...I know Celia. I believe we all have had Celias in our life, and even displayed Celia's flaws in some stage of our character development--desperation to avoid change and fighting to create her own security. Her difficult arc is the novel's concrete foundation, the dark sky from which glows all the celestial, heart-warming moments of this story. Then there is smallest of this make-shift family and possibly my favorite character, Spencer, full of hugs and sunshine, mischief and sticky buns.
Through the years I have read every Melissa Jagears book I could get my hands on, and this is my new favorite. True-to-life characters are the shining glory of this novel and a trademark Melissa Jagears carries beautifully. As I've mentioned in other reviews of her books, her immersive, heart-deep writing style calls to mind the tried-and-trusted work of one of my favorite novelists, Lori Wick.
While all the characters are flawed in their own way, I cheered them along as they faced emotional struggles, family conflict, marital issues, delinquent juveniles, dangerous cattle rustlers, and political corruption.
Themes of loneliness, societal pressures, blended families, grief, and loss were portrayed in touching, relatable ways. Now I'm counting the days until I hear what's next in the Frontier Vows series.
*I received a copy of this book from the author. The opinions expressed are my own.
Let's chat!
This book is set in Wyoming. Have you ever been there or read a book set there that sticks in your memory? It's a beautiful, rugged, sometimes lonely place. What are your thoughts about it?