July 2019 New Releases
More in-depth descriptions of these books can be found on the
ACFW Fiction Finder website
.
Contemporary Romance:
Hometown Hope
by
Laurel Blount
-- In the three years since her mother's death, widower Hoyt Bradley's daughter, Jess, hasn't spoken—until she suddenly begs him to save her favorite bookstore from closing. Hoyt is desperate to hear his daughter's voice again, but he and the bookstore's pretty owner, Anna Delaney, share a less-than-friendly past. Working together is complicated enough…but can they avoid falling in love? (Contemporary Romance from Love Inspired [Harlequin])
A Heart Surrendered
by
Joy K. Massenburge
-- Since her teens, pastor's daughter Sharonda Peterson devoted her life to church service and solitude after the one night she gave Carl Ray Everhart everything. Sobered by a near-death experience, prodigal Carl returns home from an acting and singing career to serve as the worship leader at Sheronda's church, and she finds that it takes every ounce of her resolve to resist his pursuits … not to mention memories that threaten to overturn the delicate balance she's created. Can she finally surrender the one thing she's tried all these years to protect: her heart? (Contemporary Romance from Harambee Press [Lighthouse Publishing of the Carolinas])
Starting Anew
by
Melanie D. Snitker
-- He's afraid to trust. She has a secret that could change everything between them. Will they let go of their fear, or allow it to rob them of their chance at happiness? (Contemporary Romance, Independently Published)
Historical:
Underestimating Miss Cecilia
by
Carolyn Miller
-- Can shy, sweet Cecilia overcome her family's prejudice to see a future with the recently returned prodigal son from next door? (Historical from Kregel Publications)
Benaiah: Might Man of God
by
PH Thompson
-- A novel of Biblical, historical fiction about Benaiah, one of King David's mighty men, examining the premise: What happens when the king's most obedient soldier is issued a wicked command? (Historical/Biblical from Word Alive Press)
Historical Romance:
Waltz with Destiny
by
Catherine Ulrich Brakefield
-- When the men and women of World War II marched off to war, they didn't know what lay ahead. All they knew was that upon their young and inexperienced shoulders rested the plight of the free world. (Historical Romance from CrossRiver Media Group)
Thimbles and Threads
by
Mary Davis
,
Grace Hitchcock
, Suzanne Norquist, and
Liz Tolsma
-- Enjoy four historical romances that celebrate the arts of sewing and quilting. When Tilly, a schoolteacher; Alice, a bridal shop owner; Sarah, a seamstress; and Melissa, a rag doll designer, put needle and thread to fabric, will their talents lead to the surprising gift of love? (Historical Romance from Barbour Publishing)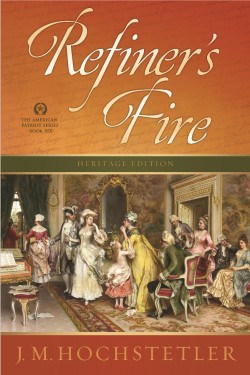 Refiner's Fire
by
J.M. Hochstetler
--
Will the promise their hearts cling to finally find joyful fulfillment, or will war's refining fire separate them forever? (Historical Romance from Sheaf House Publishers)
Where Dandelions Bloom
by
Tara Johnson
-- To escape an arranged marriage, Cassie Kendrick enlists in the Union army as a man, taking the name Thomas Turner. On the battlefields of the Civil War, keeping her identity a secret is only the beginning of her problems, especially after she meets Gabriel Avery, a handsome young photographer. Anxious to make his mark on the world and to erase past guilt, Gabriel works with renowned photographer Matthew Brady to capture images from the front lines of the war. As Gabriel forges friendships along the way, he wonders what the courageous, unpredictable Thomas Turner is hiding. Battling betrayal, their own personal demons, and a country torn apart by war, can Cassie and Gabriel forgive themselves and trust their futures to the God who births hope and healing in the darkest places? (Historical Romance from Bethany House [Baker])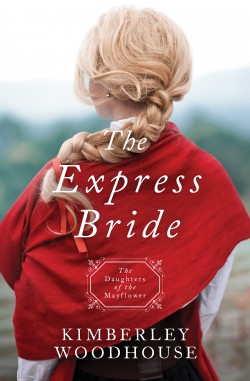 The Express Bride
by
Kimberly Woodhouse
-- Jacqueline Rivers manages a Pony Express station in 1860 Utah territory after her father's death. There are daily stresses placed on her in this unconventional role—and now a government official is asking her to sniff out counterfeiters. When Elijah Johnson passes through on the stage while on an exhausting quest to find his boss's heir, he doesn't want to leave the beguiling station manager. In fact, he may never leave when caught in the crossfire of the territory's criminal activities. Can she remain strong when secrets of the past and present are finally unearthed? (Historical Romance from Barbour Publishing)
Romantic Suspense:
Legacy Rejected
by
Robin Patchen
-- She's not giving up her home, no matter what threats come against her. Realtor Ginny Lamont's family has abandoned her, leaving her with nothing but a warning that she's in danger. But Ginny's built a home in New Hampshire. After a childhood of nomadic living, she's not running again, certainly not because of some nameless, baseless threat. Real estate developer Kade Powers is thrilled to go out with Nutfield's beautiful new real estate agent. But the prowler they surprise after their first date offers a glimpse into Ginny's past and the legacy of lies her parents left her with. She brings a mystery, one he's determined to help her solve. With Kade's help, Ginny searches for the truth of her parents' criminal activity while her enemies close in. When mobsters show up in her quaint New England town, will she find a way to bring them down, or will she lose the home—and the man—she's come to love? (Romantic Suspense, Independently Published)
Suspense:
Storm Rising
by
Ronie Kendig
-- Mentioned in the pages of the Old Testament but lost to history, the Book of the Wars has resurfaced, and its pages hold secrets--and dangers--never before seen on earth. Tasked with capturing the ancient text, former Navy SEAL Leif Metcalfe is once more given command of his own team. But their best efforts are ruined when a notorious Bulgarian operative known as Viorica snatches the volume right out from under them. Iskra "Viorica" Todorova is determined to use the book to secure the thing that matters most--freedom. But a series of strange storms erupts around the globe, and the coming dangers foretold in the text threaten crops, lives, and entire nations. Though both are haunted by secrets of their past and neither trusts the other, Leif and Iskra must form an uneasy alliance to thwart impending disaster. However, the truth hidden in centuries-old words could unleash a storm of their own destruction. (Suspense from Bethany House [Baker])
Speculative:
The Story Raider
by
Lindsay A. Franklin
-- Deceiving an empire is a treacherous game. Tanwen and the Corsyth weavers race to collect the strands of an ancient cure that might save Gryfelle. But Tanwen has a secret--Gryfelle isn't the only one afflicted by the weaver's curse. As Queen Braith struggles to assert her rule, a new arrival throws her tenuous claim to the Tirian throne into question. Braith's heart is turned upside down, and she's not sure she can trust anyone--least of all herself. The puppet master behind Gareth's rise to power has designs on Tanwen and the story weavers, and will stop at nothing to reclaim the throne. A plot to incite the angry peasants of Tir takes shape, and those dearest to Tanwen will be caught in the crossfire. As the fight for Tir consumes the realm, no one can remain innocent. (Speculative from Enclave Publishing)
*All authors whose books are included on the ACFW New Releases list attest that their book meets CBA standards for clean, Christian content. The posting of this list on the Sweet South Blog is not a review or an endorsement of any book on the list.