Grace Mallory is tired of running, of hiding. But when an old friend sends an after-hours telegraph transmission warning Grace that the man who has hunted her for nearly a year has discovered her location, she fears she has no choice. She can't let the villain she believes responsible for her father's death release his wrath in Harper's Station, the town that has sheltered her and blessed her with the dearest friends she's ever known.
Amos Bledsoe prefers bicycles to horses and private conversations over the telegraph wire to social gatherings with young ladies who see him as nothing more than an oddity. His telegraph companion, the mysterious Miss G, listens eagerly to his ramblings every night and delights him with tales all her own. For months, their friendship--dare he believe, courtship?--has fed his hope that he has finally found the woman God intended for him. Yet when he takes the next step to meet her in person, he discovers her life is in peril, and Amos must decide if he can shed the cocoon of his quiet nature to become the hero Grace requires.
*This review includes a giveaway. Please read giveaway rules carefully.
My Review Summary:
This tale includes two breathtakingly sweet romances, touches of mystery and suspense, and the kind of characters that stand romance stereotypes on their heads!
Karen's Harper's Station characters tend to burrow into a readers heart and stay there. Grace, Amos, Lee, and Helen are no different. Not to forget Amos' glasses-grabbing nephew. So adorable. Grace was relatable for me in her occasional shyness and her deep love of friends and family. Amos surprised me. I love that Karen chose the opposite of the usual "broad shouldered, square jawed" type as her hero, a character who beautifully embodies the theme. She took an insecure, bookish telegraph operator and put him into conflicts that exposed, grew, and eventually showcased his heart of deep integrity. Bravo, Karen!
Amos' candid interactions with Grace brought plenty of swoon-worthy moments, especially since he always let her know up front where he stood concerning her. His tact, his honesty, his commitment, courage, faith, and kindness wooed her in ways other suave "ladykiller" types couldn't. Grace appreciates him as a man of character and values his friendship, as well as his attentions and valorous offer of protection and assistance. The romance develops organically over the course of the story and has a gentle, natural feel. Lee and Helen's story held my curiosity as much as the main storyline, and I loved watching them overcome past wounds with God's and one another's help.
I found the telegraph operating bits fascinating, from the terminology about telegraph blanks and call signatures to the heroine's referring to the hero's fine hand at the key. The velocipede thread was certainly fun, too! Karen's stories always immerse me in the era so much that I don't want to leave. Can't wait to dive into her next story!
Amos, Grace, Lee, and Helen all rely on their faith to see them through difficult and even life-threatening circumstances. Grace's scripture memory comes to her aid in a particularly charged moment, and the strength she gains from the Bible verses brought fresh thankfulness to my heart for the Word of God.
All the characters stand to lose something in this story: the safety of Harper's Station, Amos' heart, Grace's father's life's work, her friends' safety, and later her own life. For Lee, his life and mission. For Helen, her wounded heart and the life of the only man she's ever trusted. The other two couples from Harper's Station books Malachi and Emma and Tori and Ben, also face danger in this story and play a part in the resolution.
Inner character matters more than outer appearance.
I'm including a special section for this baddie. Karen has crafted a brilliant and chilling villain in Heart on the Line, who incarnates the theme in the most despicable way. This was a villain I loved to hate, and I think you will, too. :)
I loved seeing old friends from the ladies' colony work together with new characters. After all they endure as a community, at the end of the book I definitely wanted to spend more time with them. But the happy ending drew things to a satisfying conclusion. I look forward to more stories from Harper's Station!
The Love Knot
(novella, 2018)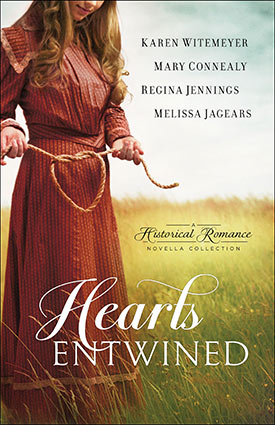 Claire Nevin has identified herself in many ways during her brief eighteen years: Irish immigrant; professional embroiderer; jilted fiancé; runaway mail-order bride; and most recently, apprentice healer for the ladies of Harper's Station. The one role she treasures above all, however, is sister. When her troubled younger sibling sends her an unexpected package by rail, the gift, and the man who delivers it, threaten to redefine her life once again. Fighting to hold on to all she has built, will she lose what matters most?
I'm giving away a copy of the FIRST book set in Harper's Station, No Other Will Do

(Pictured Below)

. This is Malachi and Emma's story that kicks off the whole series with a bang. :) Leave a comment with your email to put your name in the drawing. Giveaway ends July 7, 2017.
Subscribe to my E-newsletter and let me know in the comments. (New subscribers must click "confirm subscription" in email to qualify for entry.)
Subscribe to Karen's E-newsletter and let me know in the comments.

Tweet about this giveaway and leave your tweet URL in your comment.

Share this giveaway on Facebook, Google+ or/and other social sites and leave the post URL/s in your comment.

Add Heart on the Line to your Goodreads "Want to Read" shelf and let me know in your comment.

Add Heart on the Line to a Goodreads Listopia list and leave the list URL in your comment.
Add Of Rags and Riches Romance Collection to your Goodreads "Want to Read" shelf and let me know in your comment.
Add Of Rags and Riches Romance Collection to a Goodreads Listopia list and leave the list URL in your comment.
Have you read any of Karen's books before?

Which of Karen's books is your favorite? Favorite scene?

Can you think of any movie characters who turned out to be far different than they first appeared?