May 2019 New Releases
More in-depth descriptions of these books can be found on the
ACFW Fiction Finder website
.
Contemporary Romance:
When Love Won't Wait
by
Roger E. Bruner
-- Laugh at Pastor Dan's impulsive efforts to get out of the ministry and marry a woman of his own choosing by going against his domineering widowed mother's wishes. (Contemporary Romance, Independently Published)
A Perfect Amish Match
by
Vannetta Chapman
-- After three failed relationships, Amish bachelor Noah Graber would rather disappoint his parents than try again. But when matchmaker Olivia Mae Miller agrees to provide courting lessons, Noah's perfect match becomes clear—it's Olivia Mae herself! With ailing grandparents at home, she hadn't planned on love or marriage. Might a future with Noah be everything she's been missing? (Contemporary Romance from Love Inspired [Harlequin])
Sing a New Song
by
Candee Fick
-- Songbird Gloria Houghton has always needed to be the center of attention, but the spotlight has shifted. Seeking fame and a fresh start, she finds a new stage in Branson, Missouri...only to risk being replaced by a manipulative rival. If Gloria can't be the star, who is she? Jack-of-all-trades Nick Sherwood is just one leaf on a vast family tree that includes a restaurant chef, hotel owners, and even the headline act at a family-owned theater. He's seen how fame can blind a person with jealousy and is more than content to stay in the background thank you very much. If only he wasn't so fascinated--and irritated--by the newest addition to the staff. After a disaster of a first impression and financial difficulties land Gloria in the humblest of jobs—with Nick as her boss—it might be time for her to learn to sing a new song. (Contemporary Romance from Lighthouse Publishing of the Carolinas)
Pigtails and a Tool Belt
by
Janetta Fudge-Messmer
-- The Christian Romance where circumstances seem impossible. But with God – all things are possible. (Contemporary Romance from Winged Publications)
Wooing Cadie McCaffrey
by
Bethany Turner
-- After four years of dating Will, Cadie questions his love for her and sends him packing. Their breakup only makes Will more determined to become the man Cadie wants him to be. With the help of his work buddies and tactics drawn from Cadie's favorite romantic comedies, he devises a "foolproof" plan. What could possibly go wrong? (Contemporary Romance from Revell – A Division of Baker Publishing)
General Contemporary: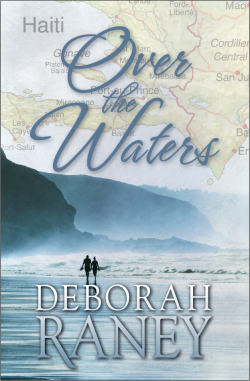 Over the Waters
by
Deborah Raney
-- As "Dr. Botox" to the bored rich women of Chicago, plastic surgeon Max Jordan was shocked by the decision of his son, Joshua, to focus his medical talent on Haitian orphans. Embittered by Joshua's death, Max searches for resolution in the very place his son called home. The selfless labor of Joshua's coworkers stuns Max. He is particularly taken by American volunteer Valerie Austin, whose dream of a honeymoon on a tropical beach were crushed, replaced by a stint working in the impoverished orphanage. But Valerie's view of Joshua's sacrifice challenges everything Max has lived for. Now Max wonders if he can ever return to his "Max-a-Million" lifestyle, or if the doors to his gilded cage have finally opened. (General Contemporary from Raney Day Press)
Historical:
True Freedom
by
Carol Ashby
-- When a Roman slave rescues his master's daughter from the kidnapping arranged by her own brother, will his sacrificial service earn the freedom and love he never dreamed possible, or will it only end in death? (Historical from Cerrillo Press)
Historical Romance:
The Daughter's Predicament
by
Mary Eileen Davis
-- Can a patient love win her heart? As Isabelle Atwood's romance prospects are turning in her favor, a family scandal derails her dreams. While making a quilt for her own hope chest, Isabelle's half-sister becomes pregnant out of wedlock and Isabelle--always the unfavored daughter--becomes the family sacrifice to save face. Isabelle loves her sister, but with three suitors interested, will she really allow herself to be manipulated into a marriage without love? Or will the man leaving her secret love poems sweep her off her feet? (Historical Romance from Mountain Brook Ink)
Mail-Order Mishaps
by
Susan Page Davis
,
Linda Ford
,
Vickie McDonough
, and
Erica Vetsch
-- In
The Bride's Dilemma
by Susan Page Davis, Eve Martin arrives in Cheyenne to learn that man she came to marry is in jail, accused of a violent murder. But has God brought her here to help save Caleb Blair's life? In
Romancing the Rancher
by Linda Ford, Amelia expects a safe home for herself and her niece in Montana as mail-order bride to Zach Taggerty. Only Zach has never heard of her. In
The Marriage Sham
by Vickie McDonough, Texas mail-order bride Zola Bryant is a widowed newlywed. Worse, they were never truly wed because the officiant was an outlaw not a preacher. What will she do now that her life and reputation are in tatters? In
The Galway Girl
by Erica Vetsch, a mail-order mix-up sends Irish lass Maeve O'Reilly to the Swedish community of Lindsborg, Kansas. Will Kaspar Sandberg consider it a happy accident or a disaster to be rectified as soon as possible? (Historical Romance from Barbour Publishing)
Lord of Her Heart
by
Sherrinda Ketchersid
-- Lady Jocelyn Ashburne suspects something is amiss at her family's castle because her father ceases to write to her. When she overhears a plot to force her into vows—either to the church or a husband—she disguises herself and flees the convent in desperation to discover the truth. Malcolm Castillon of Berkham is determined to win the next tournament and be granted a manor of his own. After years of proving his worth on the jousting field, he yearns for a life of peace. Rescuing a scrawny lad who turns out to be a beautiful woman is not what he bargained for. Still, he cannot deny that she stirs his heart like no other, in spite of her conniving ways. Chaos, deception, and treachery threaten their goals, but both are determined to succeed. Learning to trust each other might be the only way either of them survives. (Historical Romance from Lighthouse Publishing of the Carolinas)
Love's Belief
by
Linda Shenton Matchett
-- When the Third Reich implements mandates that require Jewish babies and other "undesirables" to be killed as part of The Final Solution, is midewife Pia Hertz's new faith in Christ strong enough to defy the laws of man? Dieter Fertig is relieved he's no longer part of Hitler's army, despite the reason--a battle that cost his arm. After he returns to Berlin, only to discover the Nuremburg Laws require his best friend's baby girl to be killed, he must find a way to spirit the child out of Germany before the Nazis discover her existence. (Historical Romance from Shortwave Press)
Shelter Bay
by
Pamela S. Meyers
-- Adventurous bicyclist Maureen Quinn and her best friend, Preston Stevens, a member of the U.S. Life Saving Service, find love and face life-altering events on the shores of Lake Michigan. (Historical Romance from Mantle Rock Publishing)
Mystery:
Fallen Leaf
by
Julie B. Cosgrove
-- When a DNA kit reveals blond, blue-eyed Jessica Warren is half Cherokee, she confronts her adoptive parents and learns her birth father is in prison...for murder! Now he wants her help in exonerating him. Can Jessica trust the handsome, young Tulsa district attorney to help, or does he have an agenda of his own? (Cozy Mystery from Write Integrity Press)
Bitter Pill
by
Richard L. Mabry, MD
-- Things were going along just fine until the miracle fouled them up. (Medical Mystery, Independently Published)
Latter-day Cipher
by
Latayne C. Scott
-- Kirsten Young, a well-known and rebellious Utah heiress, is found murdered in Provo Canyon. The strange markings carved into her flesh and the note written in 19th century code seem to cast a shadow on ancient Mormon laws. Journalist Selonnah Zee is assigned to cover the story-- and it quickly grows out of control. (Historical Mystery from Moody)
Romantic Suspense:
Running Target
by
Elizabeth Goddard
-- A routine patrol turns deadly when marine deputy Bree Carrington's boat is sunk by men carrying illegal weapons. Fleeing a barrage of bullets, she's suddenly rescued by DEA agent Quinn Strand—her ex-boyfriend. Quinn's return threatens more than Bree's heart…because he's the one the men are really after. As criminals hunt her to get to him, can Quinn and Bree take down a drug ring? (Romantic Suspense from Love Inspired [Harlequin])
Speculative:
The Pages of Her Life
by
James L. Rubart
-- Allison Moore's dad was living a secret life and left her mom in massive debt. As she scrambles to help her mom find a way out, she's given a journal, anonymously, during a visit to her favorite coffee shop. The pressure to rescue her mom mounts, and Allison pours her fears and heartache into the journal. But then the unexplainable happens. The words in the journal, her words, begin to disappear. And new ones fill the empty spaces—words that force her to look at everything she knows about herself in a new light. Ignoring those words could cost her everything…but so could embracing them. (Speculative from HarperCollins Christian Publishing)
*All authors whose books are included on the ACFW New Releases list attest that their book meets CBA standards for clean, Christian content. The posting of this list on the Sweet South Blog is not a review or an endorsement of any book on the list.